Following a strike that affected over 1,55,000 public employees, including immigrants, refugees, and Canadian citizens, the Public Service Alliance of Canada (PSAC) and the federal government have tentatively reached an agreement.
PSAC has ordered its members to report to work at 9 a.m. Eastern time today morning or their next available shift as of the start of the strike on April 19th.
The union that represents the federal workers who went on strike claims that the draught agreement offers more favorable terms for working from home, including revised wording and greater compensation that will close the wage gap with inflation. On its website, it offers services to its members. IRCCC warns that even when services have returned to capacity, there can still be some service effects over the coming days and weeks.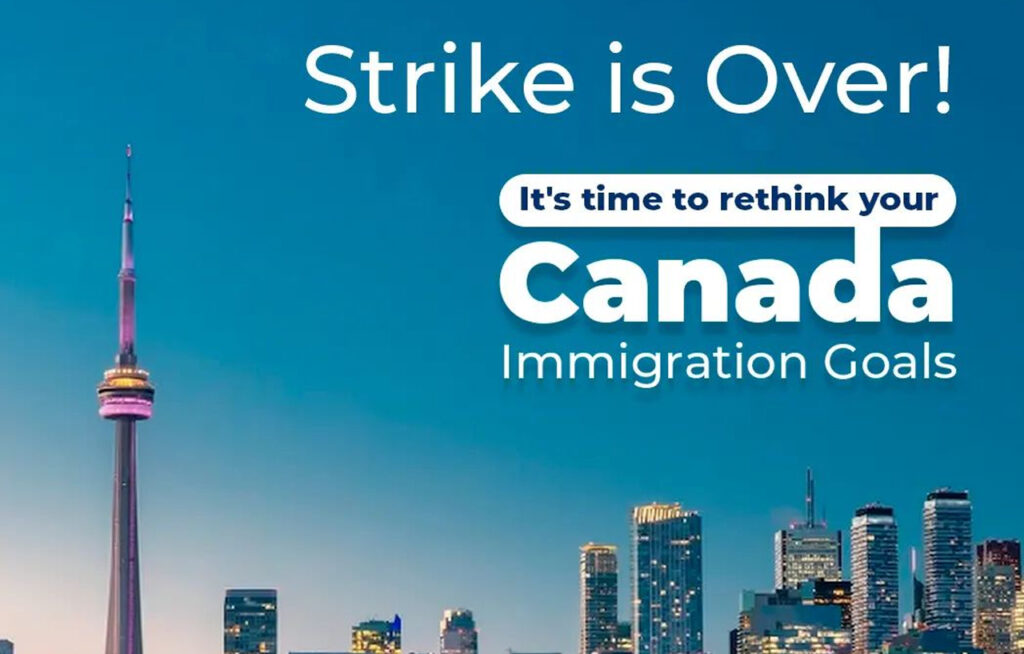 Throughout the labor disruption, Anagha Career Solutions will keep you informed by updating the information to let you know how the strike is affecting services.
The IRCC warns that delays were anticipated in several sectors, including the handling of applications. Two in-person meetings or occasions, such as citizenship ceremonies three requesting consular citizenship and passport services from the IRCC via email, phone, or social media, and five using Canadian passport services. six requests under the Freedom of Information Act, seven grants, and donation services The IRCC still accepted online applications for visa extensions during the strike.
The IRCC also conducted its regularly scheduled expedited entry lottery last Wednesday despite the strike, inviting an additional 3005 applicants to submit applications for permanent residence.
There have also been delays in the gathering of biometric data and the Temporary Foreign Worker Programme (TFWP), according to Employment and Social Development Canada (ESDC).
Employers who want to engage temporary foreign workers must submit labor market impact assessments (LMIAs), which are the responsibility of ESDC.
Many Canadian employers rely on the TFWP to fill urgent job openings in high-demand industries as well as for seasonal workers. Why did a strike occur? Between February 22 and April 11, PSAC members across the country cast 12 votes in favor of a strike; following negotiations, they failed to achieve an agreement.
The union stated on April 19 that it preferred to increase employment opportunities to achieve its goals of fair compensation, more work-life balance, greater workplace inclusion, and fewer layoffs.
Contracting roles with for-profit businesses were among the red flags. Union members desired to continue working from home as they had throughout the COVID-19 pandemic.
According to PSAC, public service employees are just as productive working from home as they are in the office, and 90% of employees want to keep working from home. While on strike, remote employees were required to walk the picket line. The proposals, according to the government, would significantly hinder its ability to provide services to Canadians and would restrict its capacity to manage personnel inside the public sector. Due to Canada's current high cost of living, the union was also requesting better compensation for its members.